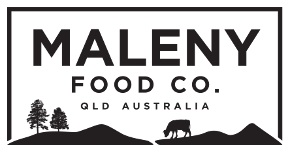 Experienced Chef / Cook
We are seeking an experienced café chef to work in our busy kitchen producing high quality deli style meals and catering; someone with passion and commitment who thrives in a dynamic, team environment.
Maleny Food Co is a well established café, operating since 2001, in Maleny, Queensland. Our reputation is built on deli style dining and catering centred around the gourmet cheese and cured meats from our well stocked fromagerie and our focus on local producers.
Applicants must have:
– a proven track record in working in a café kitchen
– be able to multitask and be comfortable working alone as well as in a kitchen team
– be capable of directing and controlling food preparation, stock rotation and food ordering
– be highly motivated and adaptable, able to prioritise work and cope under pressure
– an ability to develop high quality seasonal dishes for an all-day breakfast and lunch menu and catering
– a willingness to work cooperatively with the front of house team
This is an exciting opportunity for a talented chef/ cook who enjoys the dynamics of a small kitchen and has the experience to manage the day to day operations. You will be joining an established business that operates across a number of sectors including food production, wholesale distribution and retail.
If you interested in applying, please respond with your resume and a covering letter of no more than 300 words explaining why you would be an outstanding candidate.
This position is fulltime with shifts including weekends and public holidays. Pay and conditions are negotiable.
Only shortlisted candidates will be contacted.
Apply Now