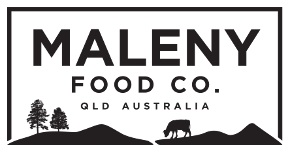 Experienced Hospitality Staff
Maleny Food Co. is an artisan food producer located in the beautiful surrounds of Maleny in the heart of the Sunshine Coast Hinterland, Queensland. Our signature gelato and sorbet has achieved critical acclaim and consistently wins Australian industry awards.
Our busy deli style café and fromagerie is located on Maple Street, our trade includes in-store dining, catering and gourmet cheese and delicatessen retail.
Our team of talented chefs and hospitality staff all share a passion for food and an enthusiasm for customer service. We believe we are good at what we do because we work hard at it, and we enjoy what we do.
We're looking for experienced Barista and Front of House staff (weekend and school holiday availability essential). You'll have regular shifts and work in a supportive and fun environment, with a great team and even better customers.
We will even support and train any FOH staff wishing to learn the coffee ropes, with their Barista accreditation and you can feast away on our award-winning gelato between shifts.
If you're interested click on Apply Now and send across your CV with a few words about you and why you'd like to join the Maleny Food Co team.
Apply Now